Boxarts

US-NTSC (Front)

Ø Wertungen

| | |
| --- | --- |
| | |

Infos
Genre:
Wrestling
Entwickler:
Acclaim
Datenträger:
16 MBit (Modul)
Publisher:

| | |
| --- | --- |
| • | Acclaim |
| • | Flying Edge |
| • | Flying Edge |

Release:

| | |
| --- | --- |
| • | 25. März 1994 |
| • | 24. März 1994 |
| • | September 1993 |

Sprache (dt. Release):
???
Sonstiges:

---

Spiele die ebenfalls dem "WWF"-Franchise angehören:

Spiele die ebenfalls dem "WWF Royal Rumble"-Franchise angehören:

Beschreibung (Verpackungstext)
ALL-NEW 16-MEG MAYHEM!!
IN THE RING... OUT OF THE RING...
OUT OF CONTROL!
ATOMIC-DROP, HEADBUTT, PILEDRIVE AND DROPKICK YOUR WAY THROUGH THE MOST GRUELING TEST OF WRESTLING SKILLS EVER DEVISED!!
ROYAL RUMBLE: 6-IN-THE-RING SIMULTANEOUS MAYHEM!

"NO-HOLDS-BARRED BRAWL" WITH NO REF... AND NO RULES!!

CHOKE-HOLDS, EYE-GOUGES AND BACK-BREAKING CHAIR-SLAMS!!

MORE SUPERSTARS THAN EVER BEFORE - EACH WITH HIS OWN TRADEMARK MOVE!!

TOURNAMENT MANIA: WIN THE CHAMPIONSHIP BELT!

YOU MAY BE READY TO WRESTLE... BUT ARE YOU READY TO RUMBLE?!!
Screenshots (Anzahl: 1)
Zeitschriftenscans
---
---
Printwerbung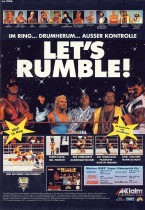 Kommentare (Anzahl: 2)
Gastkommentar schreiben
Name:

Sonic_79

Beiträge: 108

08.02.2022 um 13:47:47 Uhr
Das erste Wrestling auf dem MD, was spielerisch von der Steuerung und auch mit dem Rumble Modus entlich richtig gefetzt hat.
Rumble und Raw ftw.

Geht auch heute noch super.

Name:

AufZumAtem

Beiträge: 169

05.02.2015 um 18:13:51 Uhr
Royal Rumble war eine klare Steigerung zur Wrestlemania und besonders der Battle Royal Mode war klasse.
Ich würde gerne mal wissen wie viele Stunden mit dem Spiel und den anderen 2 WWF Spielen auf dem Mega Drive (Ohne den Arcade Teil) verbracht habe.
Der Mega Fun Test ist Super!
Der Vergleich mit der SNES Version endet unentschieden, doch der Redakteur zieht die Mega Drive Fassung sogar etwas vor. Die SNES Fassung hat aber 1% Punkt mehr...
Ich kann für mich nie entscheiden welche Version ich besser finde! Irgendwie fand ich die Steuerung auf dem Mega Drive besser!
Dafür hatte die SNES Fassung bessere Grafik & Sound und meiner Meinung nach, obwohl Hulk Hogan hier fehlte, durch Mr. Perfect, Ric Flair, Tatanke und Yokozuna das bessere Roster!
Hauptsache Shawn Michaels war bei beiden dabei!