Boxarts

EUR-PAL (Front)

Ø Wertungen

| | |
| --- | --- |
| | |

Infos
Genre:
Action Jump 'n' Run
Entwickler:
Sega
Datenträger:
???
Publisher:
Release:

| | |
| --- | --- |
| • | 26. Februar 1993 |
| • | 1992 |
| • | 1992 |

Sprache (dt. Release):
???
Sonstiges:

---

Spiele die ebenfalls dem "Batman"-Franchise angehören:

Spiele die ebenfalls dem "DC Comics"-Franchise angehören:

Beschreibung (Verpackungstext)
Deutsch
:
Der Pinguin hat Gotham City in seinen Flossen. Seine Spießgesellen sind u.a. das geisteskranke Zirkustrio "Red Triangle" und die böse Catwoman. Werfen Sie treffsichere Batarangs, jagen Sie die Bösewichter im Batmobil, und verwenden Sie überhaupt alle denkbaren Waffen, um die Verbrecher zu bekämpfen und den Pinguin in seinem Nest zu stellen!
---
Englisch
:
The Penguin has Gotham City gripped in his twisted flippers. Helping him are the deranged Red Triangle Circus Gang and the evil Catwoman, among others. Pitch deadly Batarangs, track down thugs in the Batmobile - use all available weapons to battle through the mobs and reach the showdown in The Penguin's Lair!
Screenshots (Anzahl: 2) und
-Video
Zeitschriftenscans
---
Printwerbung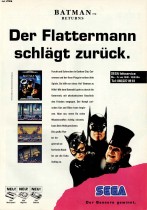 Kommentare (Anzahl: 2)
Gastkommentar schreiben
Name:

Ballermeister (Gast)
14.02.2017 um 21:51:52 Uhr
Zitat Gamers:
"Autor Daniel Waters hat sich in diesem ersten Fledermaus-Sequel der hohen Kunst der Polit-Satire angenommen. Zielscheibe: der diesjährige US-Wahlkampf und die amerikanische Finanzwelt. Die Starke-Mann-Parolen des Bösewichts Oswald Chesterfield Cobblepot, genannt Pinguin, ähneln denen des Bush-Herausforderers Ross Perot, der Charakter des fiesen Immobilienhais Max Schreck erinnert stark an den Reagan-Yuppie Donald Trump."
Erinnert mich jetzt auch daran:
https://www.youtube.com/watch?v=x2YLS80Nmls#t=6m51s

Name:

hudsh

Beiträge: 533

08.08.2012 um 19:09:26 Uhr
Für die Mega-CD-Version habe ich damals 120 Mark ausgegeben und war schwer enttäuscht. Heute gefällt's mir etwas besser, aber nochmal kaufen würde ich es trotzdem nicht.