Boxarts

US-NTSC (Front)

Ø Wertungen

| | |
| --- | --- |
| | |

Infos
Genre:
Wrestling
Entwickler:
Sculptured Software
Datenträger:
???
Publisher:

| | |
| --- | --- |
| • | Acclaim |
| • | LJN Ltd. |
| • | Acclaim |

Release:

| | |
| --- | --- |
| • | 24. April 1992 |
| • | 1992 |
| • | 22. Oktober 1992 |

Sprache (dt. Release):
???
Sonstiges:

---

Spiele die ebenfalls dem "WWF"-Franchise angehören:

Spiele die ebenfalls dem "WWF WrestleMania"-Franchise angehören:

Beschreibung (Verpackungstext)
Charge down to ringside in WWF Super WrestleMania!!! Never before have the WWF superstars like Hulk Hogan, Sid Justice, The Undertaker and Jake "The Snake" Roberts looked so real! They're bigger, mightier and tougher than ever before!
You're in command of powerslams that rock the arena, clotheslines that clobber, and atomic suplexes that flatten your foe into submission! You've got the skill and the bone crushing moves... but do you have the
guts
to become the next WWF champion?
HULK HOGAN

MACHO MAN RANDY SAVAGE

THE NATURAL DISASTERS: EARTHQUAKE & TYPHOON

SID JUSTICE

JAKE "THE SNAKE" ROBERTS

MILLION DOLLAR MAN TED DIBIASE

THE UNDERTAKER

LEGION OF DOOM: HAWK & ANIMAL

Screenshots (Anzahl: 4) und
-Video
---

-Video vorhanden:

» Anzeigen «
Zeitschriftenscans
Printwerbung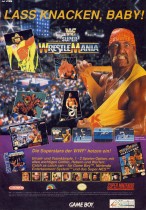 Kommentare (Anzahl: 3)
Gastkommentar schreiben
Name:

AufZumAtem

Beiträge: 169

27.03.2013 um 09:02:39 Uhr
Damals habe ich immer wegen Super Wrestlemania neidisch zum SNES rüberschielt und wir wollten uns damals sogar extra für dieses Spiel ein SNES ausleihen. 200 DM Kaution waren für ein Kind dann aber doch etwas zu viel...
Ich fand mein Glück dann als endlich auch eine Mega Drive Version erschien.
Da gab es das bessere Roster, obwohl ich natürlich auch gerne Sid und Earthquake auf dem Mega Drive gehabt hätte.
Dafür gabs da halt Shawn Michaels (und den Warrior, Papa Shango & den Bulldog).
In beiden Spielen fehlten, aber 2 der WWF Champions von 1992!
Ric Flair und auch Bret Hart.
Als ich es dann Jahre nach der Mega Drive Version zum ersten mal gespielt habe war ich schon etwas erstaunt, dass es dort keine Finishing Moves gab und somit alle Wrestler das gleiche Moveset hatten. Da war die Mega Drive Version im Nachhinein doch wesentlich interessanter!

Name:

Tante Horst (Gast)
20.01.2013 um 13:17:09 Uhr
Naja übertreiben muss man da nicht gerade.....
Damals war man als Wrestling Fan froh überhaupt ein Spiel zu haben in dem man mal seine "Helden" steuern konnte.
Ich kann mich jedenfalls an viele viele vergnügliche Stunden mit dem Spiel erinnern.
Besonders zu zweit war es sehr spaßig.
Heute kann es natürlich mit modernen Wrestling Spielen nicht mithalten, die Moves sind einfach zu wenig und alles wirkt sehr hölzern.
Trotzdem werfe ich das Spiel noch gern ein und erinnere mich an alte Zeiten

!

Name:

Mr.bloodguy (Gast)
05.02.2011 um 13:15:07 Uhr
Einfach ein schlechtes Spiel und ein Spiel bei LJN und das Spiel ist eine Geldverschwendung. Kurz gesagt: Einfach das Spiel nicht kaufen!!