Boxarts

EUR-PAL (Front)

Ø Wertungen

| | |
| --- | --- |
| | |

Infos
Genre:
Action Jump 'n' Run
Entwickler:
Sculptured Software
Datenträger:
12 MBit (Modul)
Publisher:

| | |
| --- | --- |
| • | Victor Interactive Software |
| • | JVC |
| • | LucasArts |

Release:

| | |
| --- | --- |
| • | 17. Dezember 1993 |
| • | 1. Juni 1993 |
| • | 24. Februar 1994 |

Sprache (dt. Release):
???
Sonstiges:

Bei der US-Erstauflage unterscheidet sich das Boxart etwas von den später produzierten Verpackungen. So wurde das JVC-Logo durch das von THQ ersetzt, da Letztere in den Folgejahren den Vertrieb des Spiels übernommen hatten. Außerdem ist auf den Neuauflagen der Schriftzug "The Classic Hit Available Once Again!" rechts neben dem Coverbild zu lesen.


---

Spiele die ebenfalls dem "Star Wars"-Franchise angehören:

Beschreibung (Verpackungstext)
Deutsch
:
Bist Du den Anforderungen eines Jedi Ritters gewachsen?
Verfolgt durch die gesamte Galaxie, sammeln Deine Rebellen und Du neue Kräfte auf dem fernen Eisplaneten Hoth. Auch wenn Du von imperialen Späh-Droiden aufgespürt, von Eismonstern angegriffen wirst und mit einer imperialen Armee gigantischen Ausmaßen konfrontiert wirst, darfst Du nicht aufgeben. Du bist die einzige Hoffnung der Allianz. Erlerne die Kraft der Macht, und stelle dann Dein Geschick in dieser unglaub schnellen und actionhaltigen Fortsetzung des Chartbreakers Super Star Wars unter Beweis.
Fortsetzung zum preisgekrönten Super Star Wars.

12 MegaBit vollgepackt mit Action.

Drei verschiedene Spieleransichten.

Passwortsystem für schnelleren Wiedereinstieg in hohe Level.

Coole Grafiken, Soundeffekte und Musiken.

---
Englisch
:
Will You Accept the Challenge of a Jedi Knight?
Pursued across the galaxy, you and your Rebel Forces now marshall new strength on the remote ice world of Hoth. Although tracked by probe drois, attacked by ice monsters, and confronted by an army of gigantic imperial Walkers, you must not give in. You are the Alliance's only hope. Learn the ways of the Force, then test your skills in this fast-paced, action-packed sequel to the hit game "Super Star Wars".
Sequel to the award-winning Super Star Wars.

12 megabits of action.

Three different player perspectives.

Password system of access to higher levels.

Packed with cool graphics, sound effects and music.

Screenshots (Anzahl: 11) und
-Video
---

-Video vorhanden:

» Anzeigen «
Zeitschriftenscans
---
Total! 3/94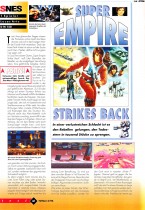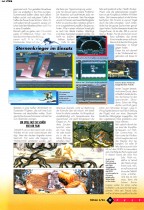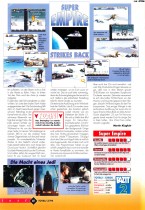 by Goemon
---