Boxarts

EUR-PAL (Front)

Ø Wertungen

| | |
| --- | --- |
| | |

Infos
Genre:
Jump 'n' Run
Entwickler:
Sega
Datenträger:
4 MBit (Modul)
Publisher:
Release:
Sprache (dt. Release):
???
Sonstiges:

---

Spiele die ebenfalls dem "Mickey Mouse"-Franchise angehören:

Beschreibung (Verpackungstext)
Deutsch
:
Reisen Sie mit Micky Maus durch unheimliche Burgruinen, dunkle Höhlen, einen verzauberten Wald und einen total verrückten Spielzeugladen! Setzen Sie Ihren Verstand und Mickys Zauberkraft ein, um Fallen zu vermeiden, geheime Passagen zu erkunden und Frieden und Glück im Reich der Illusion wieder herzustellen.
---
Englisch
:
Journey with Mickey Mouse through spoocky castle ruins, dark caverns, an enchanted forest and a toy shop gone crazy! Use your wits and Mickey's magic to evade challenging traps, explore secret passages, and restore peace and happiness to the Land of Illusion!
Screenshots (Anzahl: 1) und
-Video
Zeitschriftenscans
---
---
Sega Magazin 9+10/93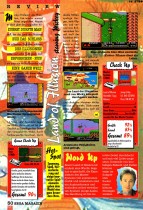 by Kettenhund
---
---
Printwerbung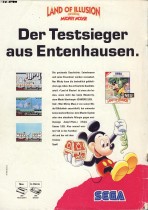 Kommentare (Anzahl: 3)
Gastkommentar schreiben
Name:

Epsilon Eagle

Beiträge: 186

04.07.2012 um 22:40:52 Uhr
Ein wirklich tolles Spiel. Grafik ist brilliant und die Level sind abwechslungsreich. Zu entdecken gibt es auch so Einiges (Sternejagd). Übertrifft den sehr guten Vorgänger sogar noch. Einzig die Atmosphäre gefiel mir bei Castle of Illusion besser. Dennoch: Für das Master System eines der Spiele die man haben sollte.


Name:

Retrostage

Beiträge: 601

13.06.2012 um 10:53:19 Uhr
Ein absolutes Master System Hightlight! Ein feiner Hüpfer, optisch toll, hat sehr viel Spaß gemacht, auch wenn es arg kindlich ist.

Name:

hudsh

Beiträge: 478

21.05.2011 um 18:25:49 Uhr
Das war schon ein richtiges Action-Adventure. Gehört neben "Sonic" zu den absoluten Highlights auf dem Master System!