Boxarts

EUR-PAL (Front)

Ø Wertungen

| | |
| --- | --- |
| | |

Infos
Genre:
Racing
Entwickler:
Electronic Arts
Datenträger:
4 MBit (Modul)
Publisher:
Release:
Sprache (dt. Release):

| | |
| --- | --- |
| | Englisch |

Sonstiges:

---

Spiele die ebenfalls dem "Road Rash"-Franchise angehören:

Beschreibung (Verpackungstext)
Deutsch
:
Das Ziel: Fahre um dein Leben - hier gibt es keine Regeln, keine Geschwindigkeitsbegrenzungen, und kein Zurück! Achte auf Straßensperren, Ölpfützen, und auf die Polizei! Erreiche Geschwindigkeiten bis zu 240 km/h während Du den Feind schlägst, knüppelst und ihm nachtrittst - bevor er Dich zuerst bekommt! Das Adrenaline pumpt durch die Aterien, der Blutdruck steigt!
---
Englisch
:
The Challenge: Race for your life - there are no rules, no speed limits, and no going back! Watch out for roadblocks, oil spills and the cops! Reach speeds of at least 150mph whilst punching, kicking and clubbing your opponent before he gets you first. The adrenalin is pumping - and he's waiting for you!
Screenshots (Anzahl: 9) und
-Video
---

-Video vorhanden:

» Anzeigen «
Zeitschriftenscans
---
---
Play Time 7/94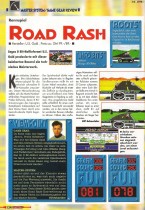 ---