Boxarts

EUR-PAL (Front)

Ø Wertungen

| | |
| --- | --- |
| | |

Infos
Genre:
Action Jump 'n' Run
Entwickler:
Clockwork Games
Datenträger:
24 MBit (Modul)
Publisher:
Release:
Sprache (dt. Release):
???
Sonstiges:

---

Spiele die ebenfalls dem "Batman"-Franchise angehören:

Spiele die ebenfalls dem "DC Comics"-Franchise angehören:

Beschreibung (Verpackungstext)
Deutsch
:
Gotham City hangs on the edge of a chilling fate at the hands of Mr. Freeze and his Ice Cannon. One or two players can face-off against The Joker. The Mad Hatter and many more as Batman and Robin battle through this nerve-shattering thriller brought to you from the hit animated TV series.
---
Englisch
:
Gotham City sieht sich einem grausigen Schicksal in Form von Mr. Freeze und seiner gewaltigen Eis-Kanone gegenüber. Wie in der bekannten TV-Comic-Serie nehmen ein oder zwei Spieler den Kampf gegen den Joker, Mad Hatter und weiteren Ganoven auf, um in diesem nervenaufreibenden Abenteuer den Sieg davonzutragen.
Screenshots (Anzahl: 1) und
-Video
Zeitschriftenscans
---
---
Printwerbung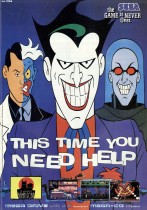 Kommentare (Anzahl: 11)
Gastkommentar schreiben
Name:

Goemon

Beiträge: 86

01.09.2012 um 17:37:26 Uhr
Die VG schreibt Passwortfunktion, neeneenee...hat es nischt,7 Level´s schreibt die Gamers, neeneenee... 4 sind es und die wiederum in mehrere Abschnitte unterteilt, rischtig ist, der zweite Level ist ssseeehhhrrr lllaaannnggg...,zu lang um genau zu sein, TOP Grafik für MD Verhältnisse aber nur was für Masochisten, am besten Action Replay Modul rein- Batman oben drauf und Spaß haben, anders hätte ich wohl nie mehr als den ersten Level gesehen