Boxarts

EUR-PAL (Front)

Ø Wertungen

| | |
| --- | --- |
| | |

Infos
Genre:
Action Shooter
Entwickler:
Appaloosa Interactive
Datenträger:
1 (CD)
Publisher:
Release:

| | |
| --- | --- |
| • | ??? |
| • | 30. November 1996 |
| • | März 1997 |

Sprache (dt. Release):
???
Sonstiges:

Das Spiel verfügt über einen 3D-Modus, der mit Hilfe der mitgelieferten Brille einen dreidimensionalen Effekt erzeugt.

---

Spiele die ebenfalls dem "Probotector/Contra"-Franchise angehören:

Beschreibung (Verpackungstext)
It's the CONTRA you always knew...
Fight aliens bent on human annihilation.

Earn power-ups that make you nearly invincible.

Blast through everything in your path.

Discover hidden caches of shields, bombs and weapons.

And a CONTRA that's all new!
One- or two-player simultaneous action in a 3D texture-mapped environment gives you control over the battlefield-charge in or launch a flank attack.

Choose your hero: an alien, a female super-warrior, a para-military steel robot or a grizzled veteran.

Special 3D format (used with enclosed 3D glasses) adds a whole new depth to gameplay.

"CONTRA... comes to life in this true-to-its-roots first 32-bit version." - Game Fan magazine
Screenshots (Anzahl: 0) und
-Video
Keine Screenshots vorhanden.
-Video vorhanden:
» Anzeigen «

Zeitschriftenscans
---
---
Printwerbung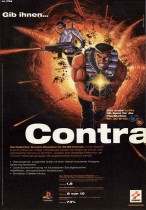 Kommentare (Anzahl: 2)
Gastkommentar schreiben
Name:

schtolteheim

Beiträge: 67

10.09.2013 um 19:25:34 Uhr
Die Sache musste schiefgehen. Man wusste doch, Appaloosa(vormals Novotrade) sind tiefgründige Feingeister, wie sollten die sich im seichten Krawallgenre zurechtfinden?

Name:

NegCon

(Admin)

Beiträge: 1.253

09.11.2010 um 18:39:02 Uhr
Irgendwie witzig, dass man mit der Wertung der Video Games sogar noch Werbung gemacht hat. Auch der zitierte Teilsatz "[...]tolle Grafik und ausgereifte Baller-Action[...]" ist so ziemlich einizig Positive das im Fazit geschrieben wurde.