Boxarts

EUR-PAL (Front)

Ø Wertungen

| | |
| --- | --- |
| | |

Infos
Genre:
Jump 'n' Run
Entwickler:
Sega
Datenträger:
4 MBit (Modul)
Publisher:
Release:
Sprache (dt. Release):

| | |
| --- | --- |
| | Englisch |

Sonstiges:

---

Spiele die ebenfalls dem "Sonic"-Franchise angehören:

Beschreibung (Verpackungstext)
Deutsch
:
Sonic ist zurück! Ein irre schnelles, irre cooles Abenteuer erwartet Sie. Dr. Robotnik hat die Tiere von South Island in Metallroboter verwandelt und Sonics besten Freunde, den Fuchs "Tails" gekidnappt. Sie toben mit Sonics Super Spin Attacke in die Schlacht, retten die Chaos Smaragde, zerquetschen Robotnik und befreien Sonics Freunde aus ihrer Gefängnis-Eiern.
---
Englisch
:
Sonic's Back in Action! Sonic's back for another 2 fast, 2 cool adventure! Dr. Robotnik has transformed South Island's animals into metal robots and kidnapped Sonic's best friend "Tails" the Fox. Blast into action with Sonic's famous Super Spin Attack to recover the Chaos Emeralds, squash Robotnik and free Sonic's friends from their Prison Eggs.
Screenshots (Anzahl: 3) und
-Video
Zeitschriftenscans
---
Sega Magazin 9+10/93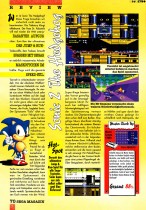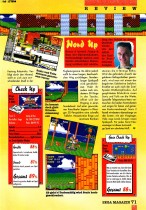 by Kettenhund
---
---
ASM 2/93

by galli
Printwerbung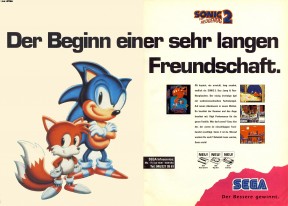 Kommentare (Anzahl: 1)
Gastkommentar schreiben
Name:

Epsilon Eagle

Beiträge: 193

18.01.2012 um 09:59:41 Uhr
Nach dem tollen ersten Teil, war der zweite Teil schon eine ziemliche Enttäuschung (wobei der dritte Teil noch mieser ist). Ich fand die neuen Elemente wie z.B. das Paragliding doch einigermaßen unpassend und die neuen Bosse waren auch nicht so das Gelbe vom Ei.