Boxarts

US-NTSC (Front)

Ø Wertungen

| | |
| --- | --- |
| | |

Infos
Genre:
Jump 'n' Run
Entwickler:
Traveller's Tales
Datenträger:
1 (CD)
Publisher:

| | |
| --- | --- |
| • | ??? |
| • | Psygnosis |
| • | Psygnosis |

Release:
Sprache (dt. Release):
???
Sonstiges:

---

Spiele die ebenfalls dem "Puggsy"-Franchise angehören:

Beschreibung (Verpackungstext)
Losing your car keys is one thing but losing your space ship is something completely different... "I know I parked it here somewhere..."
Puggsy
. Lost on a strange planet, with his space ship stolen by goofy aliens, Puggsy is having one tough day.
Now it's time to add brains to your game playing arsenal!
Cruise with
Puggsy
through 50+ levels of gameplay, to help him find his spaceship. Explore secret rooms, hidden levels and check out other cool surprises. Solve radical puzzles and zap over 100 different alien creatures as Puggsy waddles his way through 17 strange lands.
The SEGA CD version of Puggsy features:
Colorful cartoon introduction that brings Puggsy's story to life.

CD quality stereo sound that puts you right into Puggsy's world.

Incredibly animated "end-of-level" sequences that bring you more level guardians delivering unbeatable gaming action and challenge.

Introducing, Total Object Interaction (TOI]
: The awesome object control system that gives Puggsy added action not found in any other game. With TOI
Puggsy
can use his arms to control 40 different objects. Bash bad-guys with barrels or soak them with your squirt-gun or pistol. Stack stuff to make a stairway or use his arms to climb over obstacles. You'll have lots of puzzles to explore in Puggsy's wacky world.
Special Bonus! Learning levels for novice players.
Screenshots (Anzahl: 0) und
-Video
Keine Screenshots vorhanden.
-Video vorhanden:
» Anzeigen «

Zeitschriftenscans
---
Printwerbung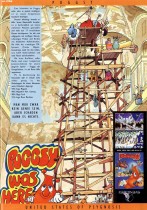 Kommentare (Anzahl: 1)
Gastkommentar schreiben
Name:

AufZumAtem

Beiträge: 169

09.02.2013 um 12:29:16 Uhr
Ich glaube das Spiel werde ich mir bei Gelegenheit auch mal besorgen!
Klingt irgendwie ganz spaßig!