Boxarts

US-NTSC (Front)

Ø Wertungen

| | |
| --- | --- |
| | |

Infos
Genre:
Action Adventure
Entwickler:
Kalisto
Datenträger:
1 (CD)
Publisher:

| | |
| --- | --- |
| • | Nicht erschienen |
| • | Konami |
| • | Konami |

Release:

| | |
| --- | --- |
| • | Nicht erschienen |
| • | 29. April 2000 |
| • | 8. September 2000 |

Sprache (dt. Release):

| | |
| --- | --- |
| | Deutsch |

Sonstiges:

---

Spiele die ebenfalls dem "Nightmare Creatures"-Franchise angehören:

Beschreibung (Verpackungstext)
THE NIGHTMARE CONTINUES...
Assume the role of Herbert Wallace, an escaped test subject, on the trail of the demonic scientist, Dr. Adam Crowley. After enduring years of horrific lab experiments, Wallace is out to settle the score in a chilling and bloody chase through London and Paris.
Little does he know that exacting revenge on Crowley is also the last hope to save the world from a nightmarish demise.
Fast and furious fighting with new techniques, combos, and fatalities.

Prepare for the bloodfest as you challenge over 20 different monsters.

Nightmares unfold as you travel through 30 game sectors including asylums, castles, sewerd, catacombs, and underwater.

Stunning 3D environments and cinematics immerse you into the depths of hell.

Deathly powerups and spells make monster bashing more gory.

Soundtrack by Rob Zombie makes every moment suspenseful.

Screenshots (Anzahl: 0) und
-Video
Keine Screenshots vorhanden.
-Video vorhanden:
» Anzeigen «

Zeitschriftenscans
Fun Generation 6/00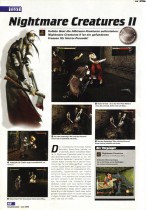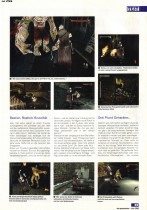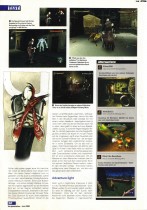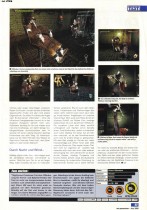 by Goemon
---
Kommentare (Anzahl: 3)
Gastkommentar schreiben
Name:

Riemann80

Beiträge: 171

10.06.2014 um 23:23:37 Uhr
Habe das Spiel auf Dreamcast und Playstation mal gespielt, aber jeweils schnell wieder aufgehört. Fand das Spiel sehr monoton und schwer bzw. hakelig zu steuern, ungelenkes Gehacke trifft es sehr gut als Beschreibung. Bei der Dreamcast-Version ist zudem ärgerlich, daß der Entwickler nicht viel mehr an dem Spiel getan hat, als die Texturfilterung anzuknipsen.

Name:

TAPETRVE

Beiträge: 331

10.06.2014 um 04:19:27 Uhr
Wirklich schade. Hab das Spiel zwar seinerzeit durchaus gern gezockt, aber eben auch nur in kleinen Schüben, da das ungelenke Gehacke wirklich schnell unerträglich langweilig wurde. Ohne das herrlich ranzige Design wäre der Titel eine absolute Nullnummer gewesen.

Name:

7thGuest (Gast)
27.09.2010 um 21:53:16 Uhr
Blutig, brutal, morbide und... langweilig. Stundenlang immer und immer wieder das gleiche monoton-einschläfernde Gemetzel. Dass das Spiel erst Jahre nach seiner Veröffentlichung auf dem Index gelandet ist, liegt vermutlich daran, dass es zu Recht kaum jemand gekauft und entsprechend wenig Beachtung seitens möglicher Kläger gefunden hat.