Boxarts

EUR-PAL (Front)

Ø Wertungen

| | |
| --- | --- |
| | |

Infos
Genre:
Jump 'n' Run
Entwickler:
Atreid Concept SA
Datenträger:
8 MBit (Modul)
Publisher:
Release:

| | |
| --- | --- |
| • | 3. Januar 1995 |
| • | Januar 1995 |
| • | 1995 |

Sprache (dt. Release):
???
Sonstiges:

---

Spiele die ebenfalls dem "Pac-Man"-Franchise angehören:

Beschreibung (Verpackungstext)
Bring Pac-Man Back, Man.

The evil Ghost Witch hast cast a vicious spell on Pac-Man and thrown him back in time to when he was a Pac-Boy. Only you can save him now. Down some Pac-Pellets and get ready to battle your way through a totally supersonic side-scrolling adventure. Journey through snowy mountains and forests, collect fireballs and bubbles, crunch Pac-Bats and ghosts, swim like a fish and swing like a monkey... and ultimately get Pac-Man back to the real world!
Screenshots (Anzahl: 2) und
-Video
Zeitschriftenscans
---
---
Printwerbung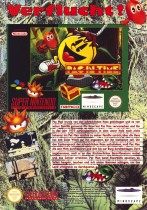 Kommentare (Anzahl: 1)
Gastkommentar schreiben
Name:

Retrostage

Beiträge: 586

05.07.2012 um 16:39:47 Uhr
Ein höchst durchschnittliches Game: Wenig motivierend, in späteren Levels furchtbar frustig und die Steuerung ist teilweise sehr ärgerlich gelöst und dazu noch nicht einmal wirklich präzise. Wenn man bedenkt, dass der Titel Ende 1994, Anfang 1995 auf dem Markt war, dann gibt es kaum Gründe, dieses Spiel weiterzuemfehlen. Einzig Gerne-Fans können einen Blick riskieren, sollte aber wenig erwarten.
Dafür gibts im Gegenzug eine ansehnlich Optik.